Design Trends and Inspiration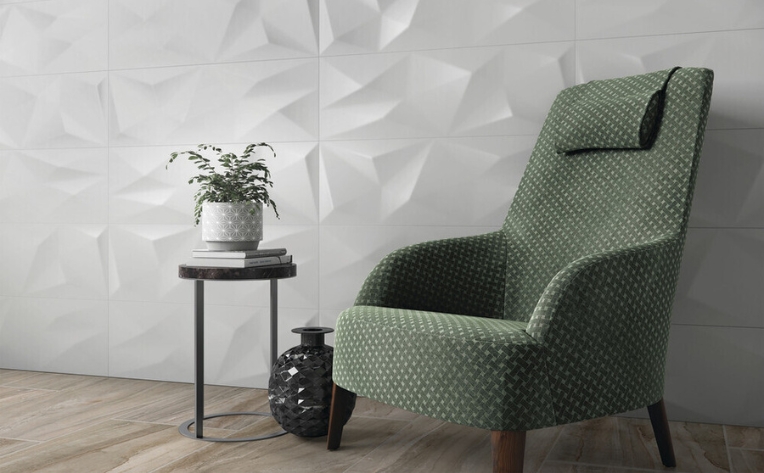 Oct 19, 2021
When planning your spa-inspired bathroom, it helps to start from the ground up. The material, texture, and design of your floor can set the tone for the rest of your spa décor. We'll look at the best flooring materials, designs, and some additional considerations for your spa bathroom ideas.
Worry-Free Ceramic Tile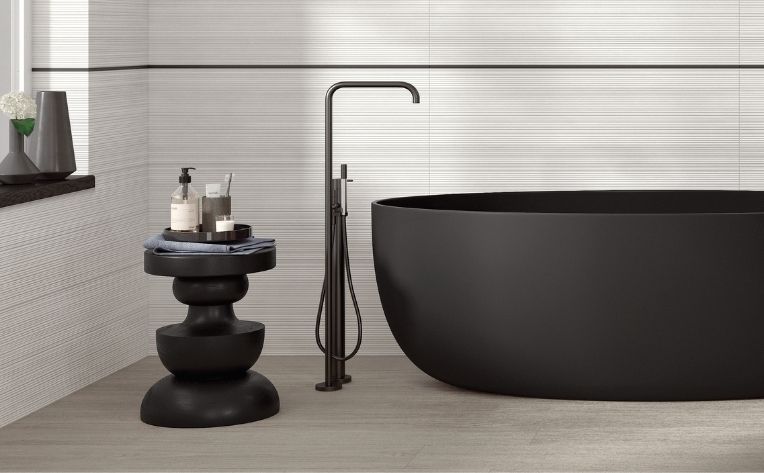 Sparkle Linear White Ceramic by Emser Tile
Quite possibly, the most common spa flooring material is ceramic tile. Even in ancient Rome, they had rich stone tiles lining their baths. All types of tile are incredibly durable and built to take rough wear for years, but ceramic tile is the best choice for bathrooms because it is more moisture-resistant than other types of tile. No matter how serene your bathroom is, your floor will still need to stand up to high humidity and constant water splashes. Ceramic tile's toughness also makes it easy to clean. Since it's stain-resistant, you can scrub it all you want, and the dirt and grime will disappear, but the tile will stay strong.
Warm Wood Floors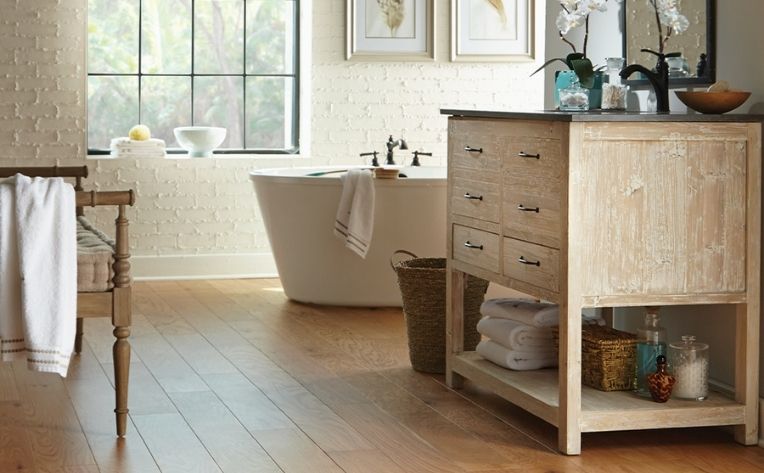 Castillian English White Oak by Mullican Hardwood
Another traditional option for a spa-like atmosphere is hardwood flooring. There are obvious pros and cons that come to mind, but hardwood floors are a classic for a reason. Wood floors are a traditionally natural material, which helps put people at ease, making them the perfect floor for a calming spa environment. Plus, they are warmer and more comforting than almost any other bathroom flooring option. But with all the benefits of hardwood floors, you're going to need a sealer that is up to the task. Your home spa will expose wood floors to all kinds of spills, splashes, moisture, and humidity, which, if unattended to, will cause warping and cracking and greatly diminish the life of your floors.
If you're hesitant to go with ceramic tile or hardwood for your spa, consider other ways to work natural materials into your space. Not only will natural materials add warmth, but they also dampen sound, helping you get as relaxed as possible in your own home. Check out floor mats, vanities, shelves, and cabinets as other ways to include these materials.
Alternative Spa Materials
When it comes to spa flooring materials, there are still more options outside of natural ones. Cement is a popular choice due to its durability, stripped-down aesthetic, and low cost. The simplicity of a cement floor can be felt all through your spa experience. The biggest drawback to cement is that it is unforgiving. Drop anything delicate, and it's likely to break. Plus, your joints will take more of a beating if you're walking on it constantly.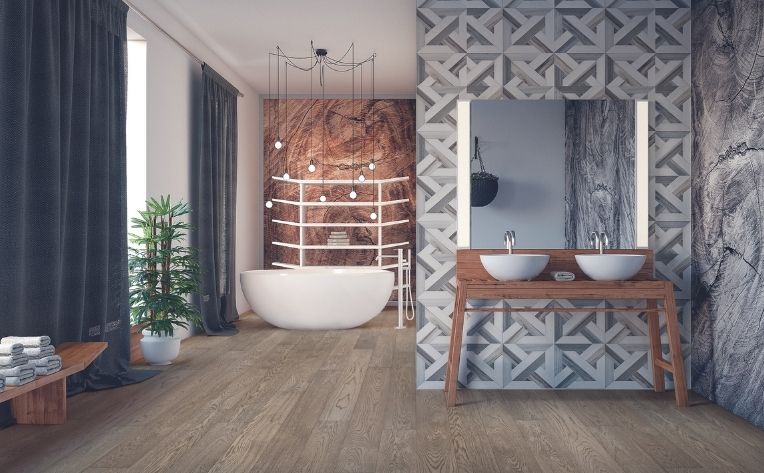 Coretec luxury vinyl
Vinyl flooring has become a very popular choice for bathrooms because it can dampen sound, it's inexpensive, and maintenance is incredibly easy since it's waterproof. Plus, vinyl flooring comes in all different patterns and designs to bring some intrigue into your spa. Geometric patterns on your floors will illicit sophistication without looking too flashy, making it the perfect place to relax.
When choosing your flooring material, you should also consider the part that color will play in making your shower room serene. Typically, spas are meant to feel immaculate and bright, so often, they are white or off-white. But don't be afraid of a little more color. There are plenty of soft, muted colors that can still fit the tranquil environment you're going for. Stay away from colors and pairings that might be bold and energizing. Instead, opt for warm neutrals like creams, grays, and beiges, paired with colors found in nature like soft blues and green accents to add some visual appeal.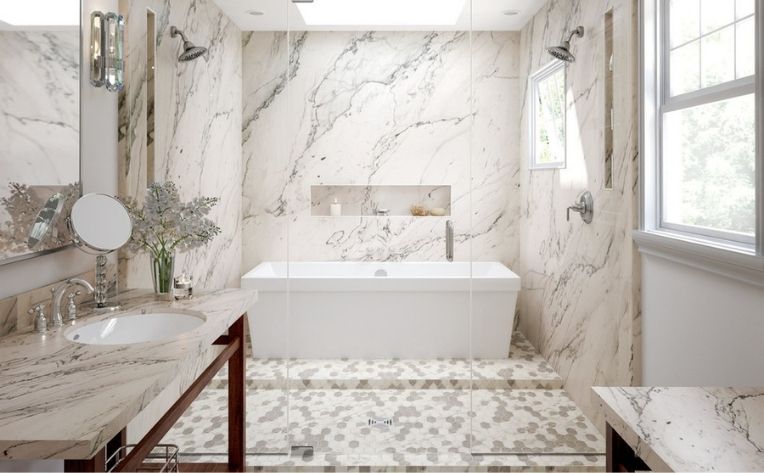 Marble Attache Calacatta Hex Mosaic by Daltile
If all else fails and your space is still feeling too bare, try adding a rug. Not only will it help keep your bare feet off a cold floor in the morning, but it will also add a pop of color and coziness. Make sure that it's stain-resistant, water-repellent, and machine washable to avoid mold and bacteria growth. And don't just stop at rugs—you can add all kinds of different materials through décor using marble, wood, wool, and metal, to create a sense of Zen.
If you have any questions about choosing new floors for your spa safe haven, as always you can count on your local Flooring America experts to provide knowledgeable advice for all your flooring projects.
Continue Reading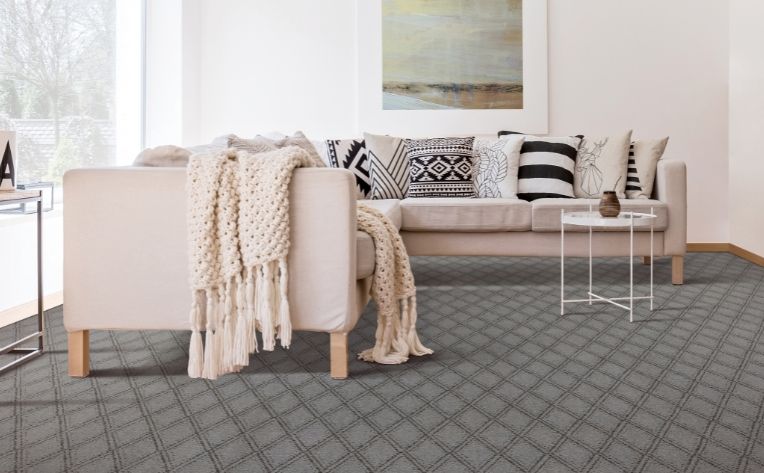 Oct 15, 2021
When it comes to all the flooring options out there, some people think carpet is an outdated option, previously used to cover up old floors and lacking the style and features of other flooring materials. But that could not be further from the truth. Modern carpet has come a long way, and here are the latest carpet trends in 2021.
Don't Call It a Comeback
Checkered patterns on carpets have been here for years. With people taking more bold swings in design these days, textured and patterned carpets are having another moment. Chiefly among them are checkered patterns. Flannels aren't just for fall anymore. Depending on the width and length of the horizontal and vertical lines, checkered patterns can range from plaids to gingham to houndstooth, and when paired with unconventional carpet colors, they can offer a variety of style options that are anything but traditional. Plus, they're easy to pair with other design elements around your space like tablecloths, furniture, sheets, blankets, pillows, and artwork. Since most checkered patterns include more than one carpet color, they allow more flexibility when incorporating additional design elements into your space.
Checkered patterns date back to ancient Egypt but today are mostly thought of as a working-class material. Available in many different carpet colors and hues, checkered patterns bring with them a cozy warmth in a standout pattern, even outside of clothing. Checkered patterns are being pushed to either end of the design spectrum, featuring asymmetrical abstract patterns that look like works of art on your floors and grid patterns with such tight-knit squares; they appear to make one single design.
Waterproof Carpets Are on the Rise
When most people think carpets, they think "hard-to-clean surface." But, thanks to some technological advances in carpeting materials, waterproof carpets have been on the rise. Made with water-repellent fabrics and featuring a tighter weave, waterproof carpets are the perfect balance of comfy and easy-to-clean.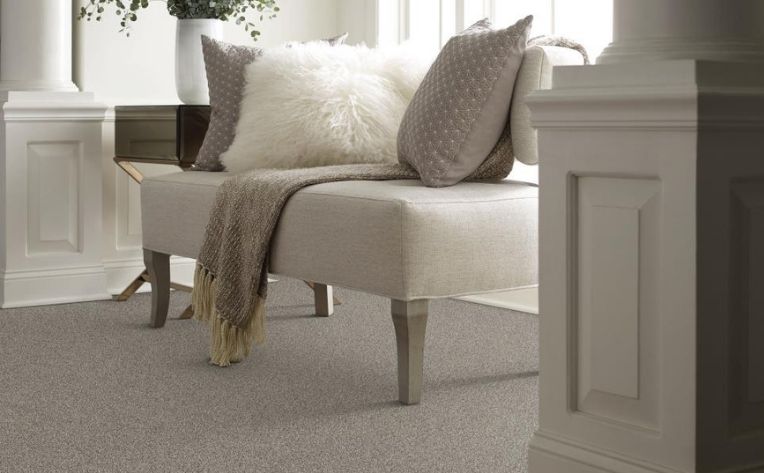 Carpets Getting Back to Nature
A growing trend in 2021 has been carpets made from natural fibers. If you seek the style of hardwood but crave the comfort of carpet, consider natural fiber carpets. Not only are they more eco-friendly, but they help create a more welcoming space. Carpets made from organic wool, sisal, jute, and seagrass are both beautiful and textural, adding more dimension to your space. The neutral earth tones balance well with other design elements as you work toward an aesthetically pleasing sanctuary of your own design.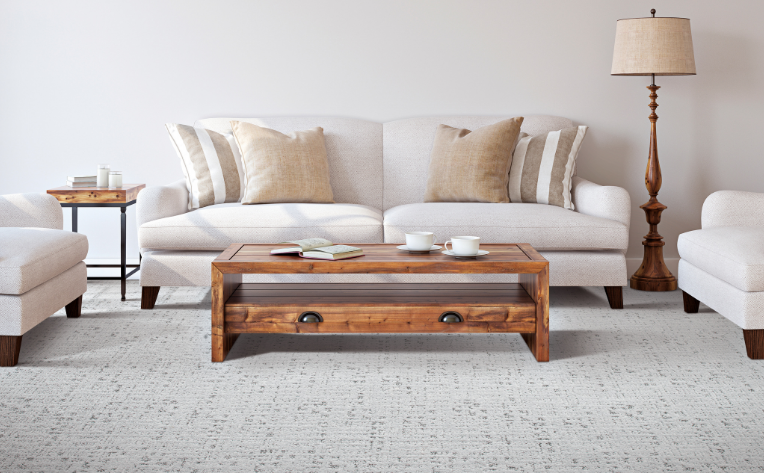 Be Bold
Carpet doesn't have to be bland or just blend in. Try some styles that can elevate your whole room. Make a small room seem bigger with stripes or pair animal prints with minimal designs. Vintage statement carpets are the latest trends for stairs. Mix and match your fabrics from floors to walls to furniture and really explore the maximalist style to create a space that is on-trend and uniquely you.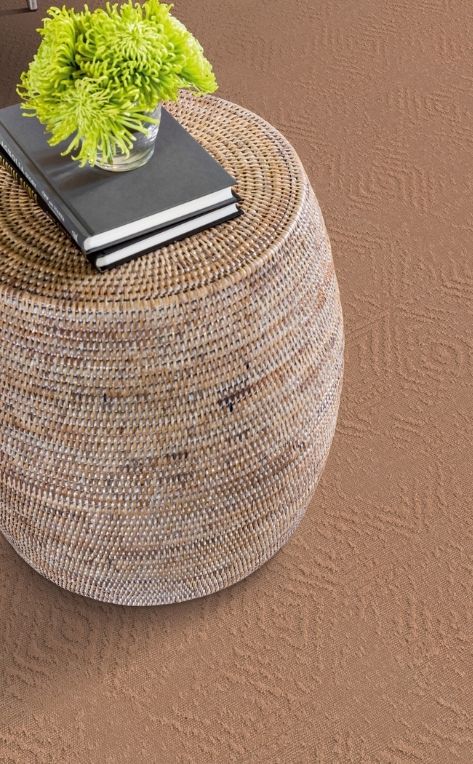 Carpet for Your Whole Clan
Looking for more function over form? Head down to your local Flooring America and talk to an expert about living room carpet ideas and the perfect bedroom carpet colors. They have tons of great options, including Hearth&Home, Rival by Resista, and Innovia. All designed to keep up with your family for a long time and look great while doing it.
Continue Reading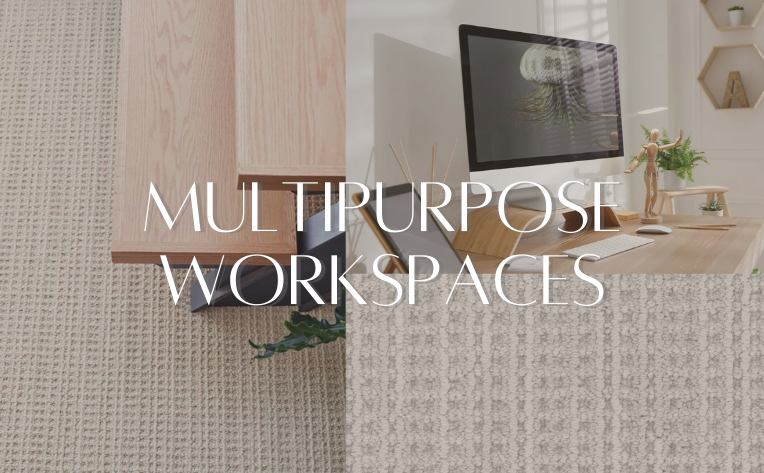 Oct 12, 2021
Is there anything as lovely as a crisp autumn evening under a bright full moon? After days of scorching summer heat, the fall breeze is a welcome break offering up fun seasonal activities like apple picking, carving pumpkins, and solving corn mazes. So, pull out a warm shawl and a velvet-brim hat, grab your favorite walking companion and maybe a pumpkin spice latte, and take a stroll through the beautiful colors.
Wrap yourself up in fun fall palettes by installing brand new floors this season. We've curated a collection of flooring and design inspiration based on the harvest moon. From the pale gray moon to the warm purple hues of twilight, we've got a few fall favorites headed your way.
Autumn Color Palettes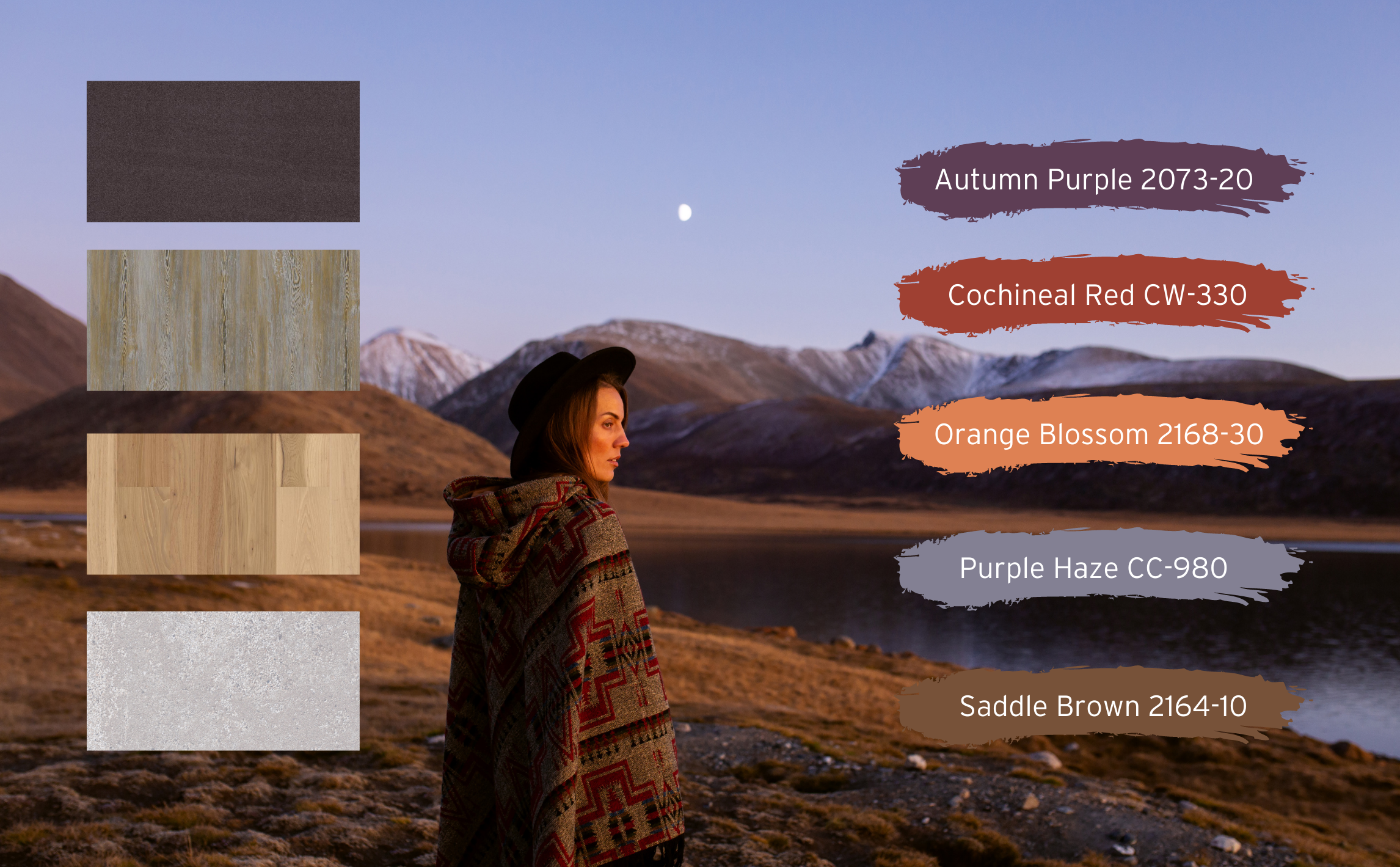 Paint by Benjamin Moore
Fall is well-known for its colors as the once-green leaves burst into vibrant hues of purple, red, yellow, and orange before cascading into piles of rich brown. Bring a bit of that lovely fall color inside with linens, pillows, décor, and maybe even a fresh coat of paint. Sprucing up your home now is just good prep so that you're ready when the family arrives on the holidays.
Down to Earth Tile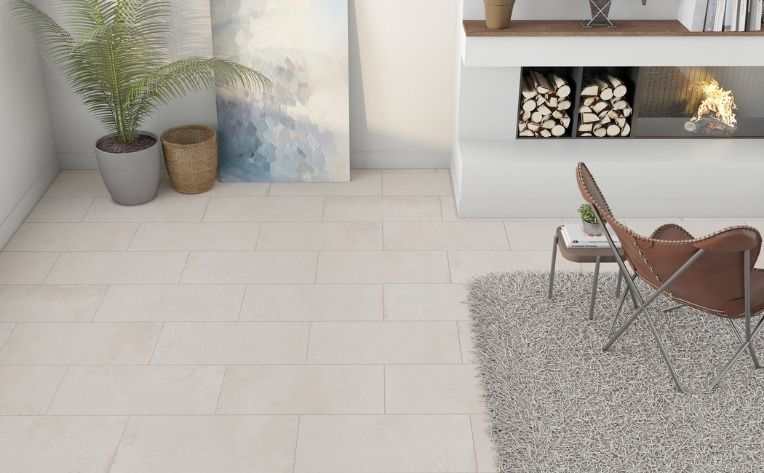 Erosion Rock Porcelain by Emser Tile
This beautiful glazed porcelain tile designed by Emser has a gray, earthy hue that pulls out both cool and warm undertones that will brilliantly match your interiors. Alongside its aesthetic appeal, this concrete-look tile has incredible durability, so it can withstand high traffic and even makes an excellent exterior floor. Elevate your outdoor patio this season with outdoor heaters and the warmth of this Erosion tile to make the most of those crisp fall evenings under a brilliant harvest moon.
Vintage Aged Hardwood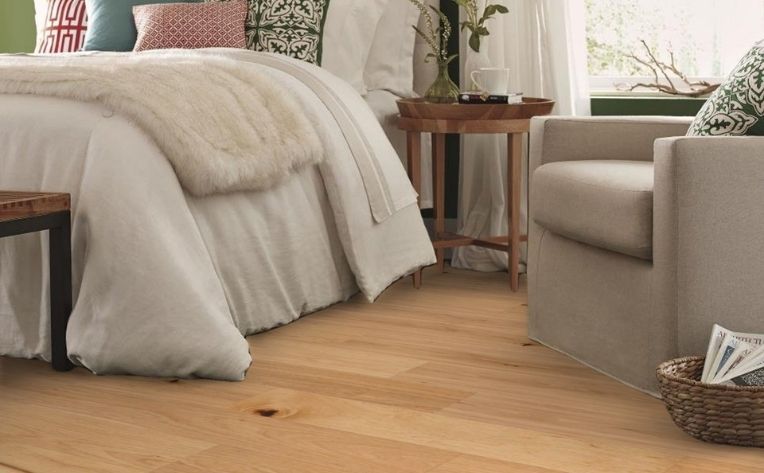 Enjoy the rich look of hickory floorboards with our hardwood pick this fall. Amur Hickory by Downs is the perfect flooring companion for your home. Its unique sense of history and character combines the contemporary look of wide-planks with a slightly distressed surface to date it. This classic hardwood has the appearance of a vintage, oil-rubbed hickory floor, but thanks to its modern technology, you can install it anywhere, including kitchens and bathrooms.
Carpet for Cozying Up
Celebrate the season in style by sinking your feet into Hearth & Home's Circle Drive Plus in New Grape. This strikingly moody purple hue adds a layer of coziness that allows you to indulge in creative flair. A textured Saxony carpet is perfect for the bedroom and living room alike, with its plush deep pile warming up your home during the darkest months of the year.
Waterproof Luxury Vinyl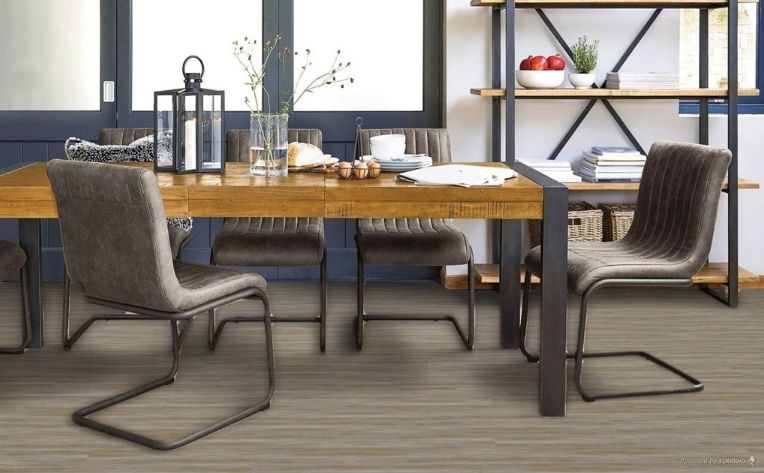 Pull cool gray tones together with rich brown hues this fall when you invest in Crimson Shore luxury vinyl by Downs Life H2O. This waterproof flooring combines a rustic textured graining with a contemporary smooth finish to produce an unmatched wood look that's sure to stand out in any interior design. Plus, these floors add insulation to your home to keep out those brisk autumn winds.
More Flooring Inspiration & Tips
Find more fall interior design trends and inspiration when you read our latest issue of Design At Home by Flooring America.
Continue Reading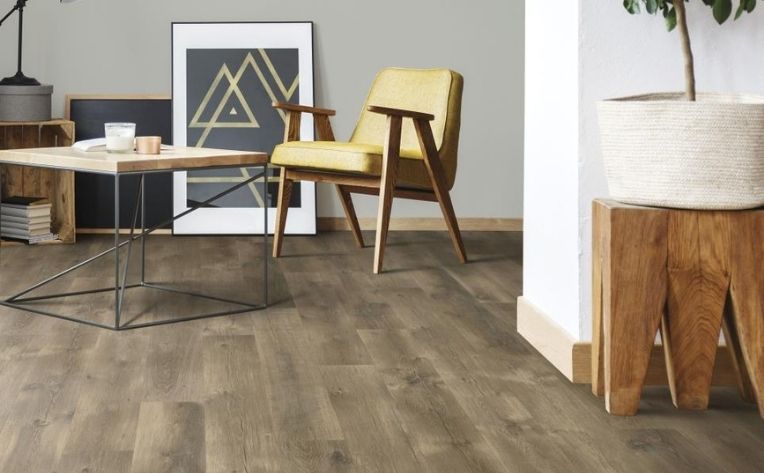 Oct 04, 2021
Remodeling can be tough, especially if you're unsure of your design style. Maybe this is your first time owning a home where you can redesign the space however you want. Maybe you're just looking for something contemporary and brand-new. Or, maybe, you can't decide between farmhouse chic and mid-century modern. Well, whatever the case, you may want to let the stars help determine your style.
Libra (September 23 – October 22)
As a Libra, your biggest priority is balance, in all aspects of your life, including design style. Your constant pursuit of harmony will lead you toward aesthetics that are more symmetrical and refined. Because of your elevated taste, you will find a lot of your fellow Libras working as designers, decorators, and stylists, which will give you a leg up when it comes to designing your own home.
Try installing this beautiful Timber Plus Herringbone luxury vinyl in your kitchens, baths, and living spaces to elevate your style. Herringbone wood-look floors are trending in the interior design world with eye-catching patterns, combining natural materials with visual interest.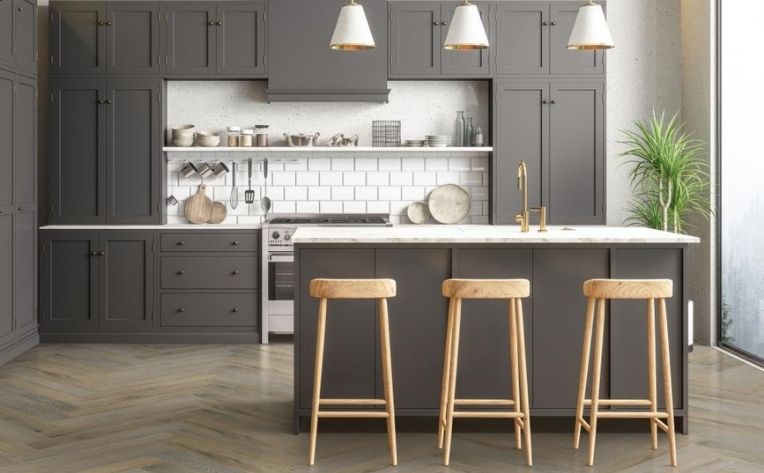 Scorpio (October 23 – November 21)
Scorpios are all about passion. So, why should your design style be any different? If you think something is important, like your home decor, you're not afraid to back it up with research. We say your home should reflect your boldness, so look into more eclectic designs, whether it's showcased in furniture or as an accent wall. Let your independence, ambition, and bravery guide you.
We know that Scorpios value honesty. That's why, when we recommend our waterproof hardwood floors, you know you can trust that they really are waterproof. And not only are they waterproof, but they'll bring your space distinctive beauty and unique grain variations in which you can play the color contrast up or down. We think a darker color palette would appeal directly to your personal style. Combine advanced technology and rustic elegance with a product like Floorcraft's Isle Royale in Tiger Paw to give your home the intense design only a Scorpio could pull off.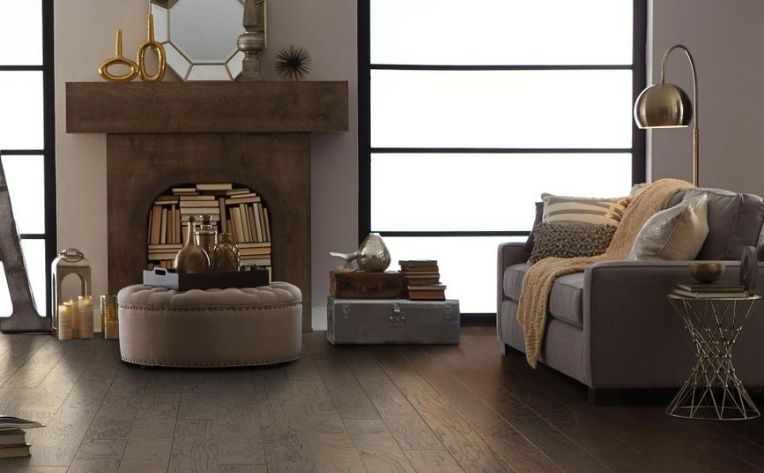 Sagittarius (November 22 – December 21)
Since being a Sagittarius means you're always up for learning something new, you'll love what we have to say about your sign's design style. You love to travel, so it's no wonder you would want your home to transport you to some of your favorite places around the world. With your ability to light up any room you walk into, you'll want to make sure those rooms are designed to handle your light. Being so adaptable and flexible means that your home decor can reflect your desire for change.
The adventurous Sagittarius should look no further than our Passages carpet line by Tigressá. This waterproof collection is filled with unique hues, textures, and patterns inspired by worldly travels. You prefer to be on the go versus at home, so stick with a minimalist decor style. In this simple space, you can add pops of color with houseplants and display your latest souvenirs from abroad even more beautifully.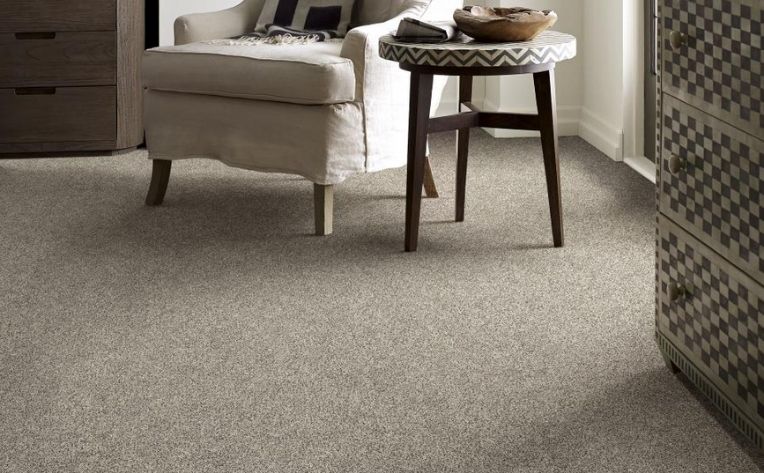 Capricorn (December 22 – January 19)
Capricorns are incredibly reliable, so it's no wonder you are drawn to the timeless design styles. You need a design that will be as dependable as you are and won't get flustered by stylish fads as you work toward your long-term goals.
As a Capricorn, you are a practical and efficient individual, which is why you'd be drawn to our Floorcraft laminate that has the realistic look of hardwood but is low-maintenance and long-lasting. Being one of the most hardworking signs, an organized home with a custom office space is of the utmost importance—and, really, the only feature of your home that matters. Stick with a sleek, classic decor style that provides ample storage for minimal clutter.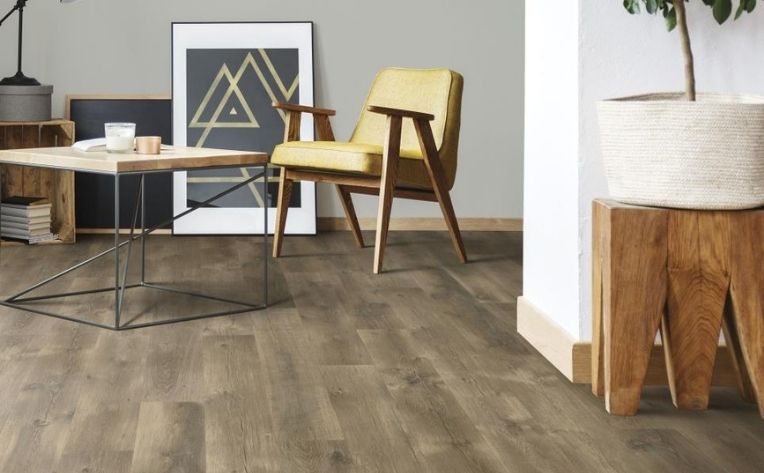 If you have questions about what floors would fit best in your home and you'd prefer to have some expert insight, you can always talk to your local flooring specialists at your nearest Flooring America. Keep an eye on our blog as we explore the rest of the signs and their design style preferences in the coming months.
Continue Reading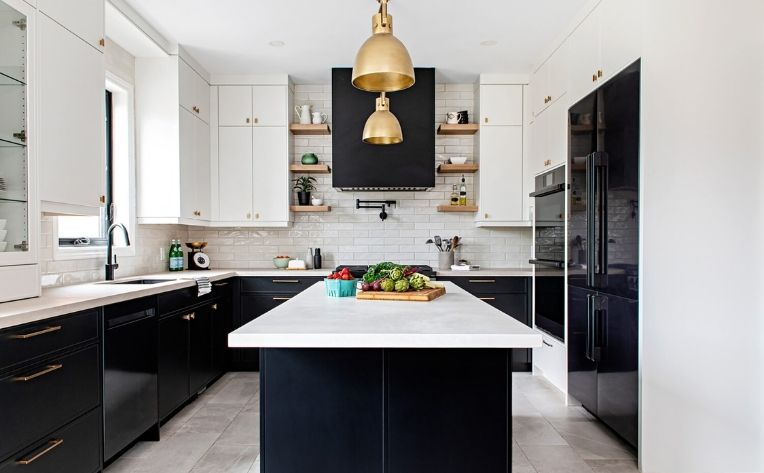 Sep 29, 2021
Written by Kate Davidson |

Design by Kate + Co Design
A great kitchen has many ingredients, from a thoughtful plan and functional layout to solid construction materials, organized storage, and, of course, aesthetics. This is particularly the case when it comes to the family kitchen—arguably the hardest-working room in the home. And like all tried-and-true recipes, substitutions just won't cut it. Here are some lessons I've learned from my experience designing kitchens, to ensure longevity, function, and style.
Function First
When kicking off a kitchen renovation, the floor plan should be your first priority. Before deciding on a layout, determine how you intend to use the space. You might be a gourmet chef, or you may believe that the family that cooks together stays together. Do you host lots of parties? What other activities will your kitchen need to accommodate, aside from cooking and dining? Will it also function as a home office or homework area? A craft zone? A spot for entertainment and games? For a truly seamless and high-functioning kitchen, be sure to factor in your lifestyle while you are in the design stage.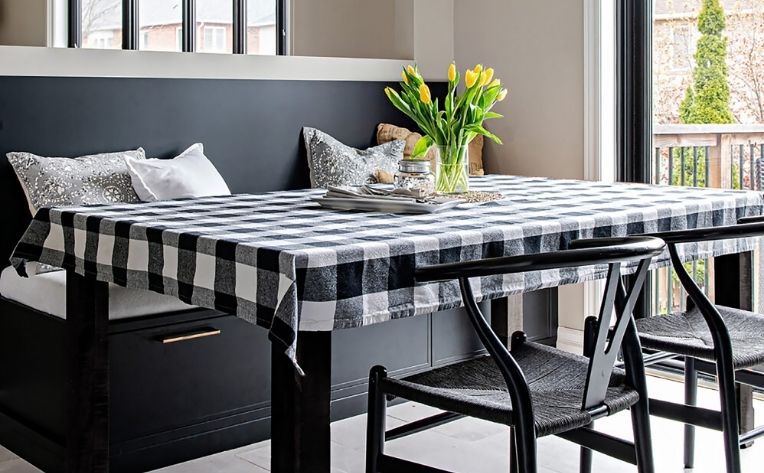 Photography by Mike Chajecki
Floor Plan
Open-concept floor plans offer the best use of space; they eliminate walls and halls while promoting socialization and a family-friendly atmosphere. This type of layout demands good visual flow and continuity throughout your main floor. Use cohesive materials and a complementary color palette in the kitchen and adjoining living and dining area , and continue the same flooring throughout. Eliminating those visual breaks from tile to carpet to hardwood will blur the boundaries between the different areas and make them appear larger.
Island Vibes
Incorporating an island will ease the visual transition between kitchen and living area while boosting function. Your island will serve as a large food-preparation area and an entertaining and dining space while eliminating the need for a kitchen table and chairs and freeing up valuable space for other essentials!
Storage Space
This brings us to our next essential ingredient. If there's one thing that never seems to go out of style in the kitchen, it's storage. How your home is organized makes all the difference in its overall appearance and function, even beyond the kitchen itself. Think about all the stuff that seems to migrate to other rooms. This is less likely to happen when every item has a dedicated spot. Decluttering is an essential process that must be ongoing to ensure that your home stays organized, and if you don't have room for something, you should ask yourself whether you really need it. As a mother of three children, I can speak from experience that with a little forethought, that extra time spent planning your storage system will be appreciated as your family's needs change.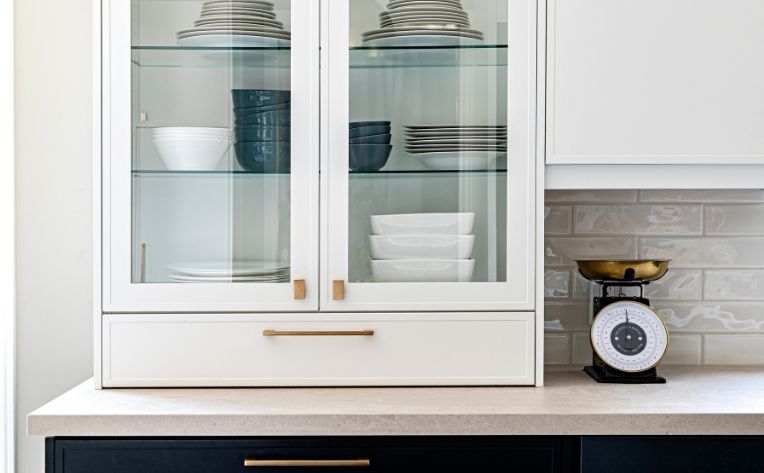 Photography by Mike Chajecki
Cabinet Considerations
In many of my kitchen design projects, I like to use a combination of open shelving and closed cabinets. This has its obvious functional benefits, but it also plays an important role in the style department. To warm up this kitchen (pictured above) and provide additional function and casual everyday storage, we used warm walnut-veneered floating shelves to flank either side of the range. These shelves provide a stylish and easily accessible place to store daily dishes as well as another visual design element to highlight the cooking area.
When choosing a storage system for your kitchen, consider your lifestyle and your preferred organizational style. Remember, your storage system will only work if you actually use it! A kitchen renovation or redesign is the perfect opportunity to integrate organization that will work seamlessly with your space and lifestyle. Our designers sit down with each client and discuss their needs to ensure that elements such as cabinetry are thoughtfully designed to meet their family's needs.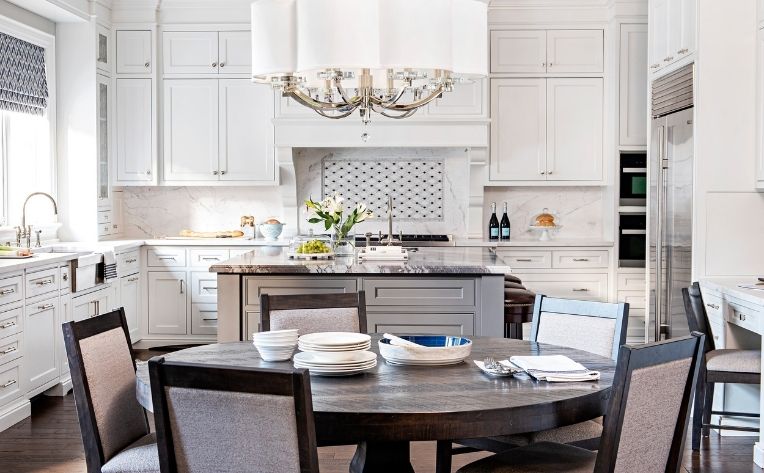 Photography by Mike Chajecki
Here are some things to consider:
Off-the-rack cabinets come at a standard depth, but if you decide on custom cabinets, you can tailor them to maximize every inch of space. Ensure that they're deep enough to accommodate small appliances, utensils, pantry items, and all your other kitchen essentials.
Extend your cabinets to the ceiling to create even more storage space and add visual drama. This will draw the eye upward and accentuate the height of the space.
Think about adding some extra hidden electrical outlets under the island.
Use consistent tone in finishes for a streamlined look throughout.
Let's Talk Style!
The kitchen is a costly and very involved renovation, so I advise my clients to consider whether they want to go neutral or bold. When I think "neutral," I see finishes and materials that will hold their aesthetic value for a long time, or even indefinitely. Just to be clear, "neutral" does not mean boring. Let's dig into this one a bit further.
When planning a kitchen renovation, you'll quickly learn that there are some big-ticket items that you won't want to change soon because of cost and convenience factors. For elements such as flooring, countertops, backsplash, cabinets, and major appliances, choosing a neutral style will extend the life of your selection in terms of style. When you're feeling inspired by the trend du jour, you can add noncommittal visual interest by incorporating low-cost and easily installed updates, such as lighting, cabinet hardware, small appliances, and accessories.
Black and white is a classic color combination that still has a strong modern sensibility. In this kitchen, the white provides that enduring neutral finish, while the black range hood and lower cabinets provide punctuation.
See the Light
Lighting is indeed a functional element in the kitchen, but the right fixtures can also serve as striking focal points. Use your ambient, task, and accent lighting to highlight work areas and design features. Of course, a statement chandelier above the kitchen table or pendants suspended above the breakfast bar can be features in and of themselves! Each "zone" in your kitchen should have a dedicated light on a separate switch, including the prep area at the counter, cooktop, sink, breakfast bar, and kitchen table. Install dimmer switches to add even more function and set the right ambiance.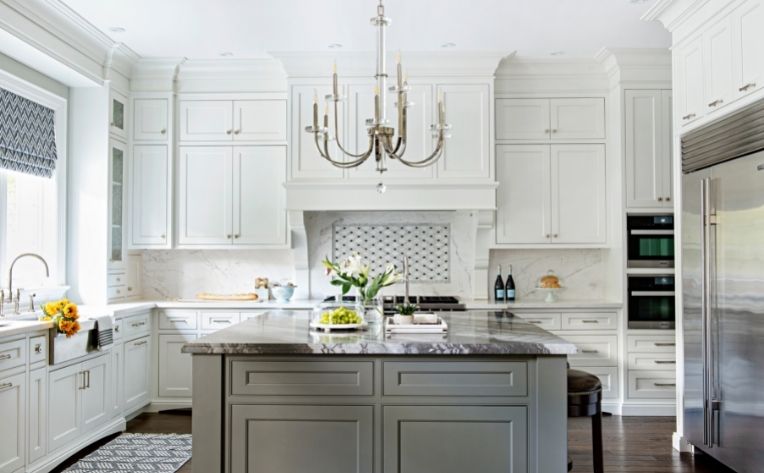 Photography by Mike Chajecki
There's no doubt that the kitchen can be a busy place. When it's just not working for your household anymore, it is time to look at the bigger picture. What do you really need and want? The right design has the power to simplify a hectic life, increase productivity, and ensure that the time you spend in a space with family and friends is as sweet as it can be. Work with a designer like me to ensure you're maximizing your kitchen's full potential—and, in turn, your own!
Continue Reading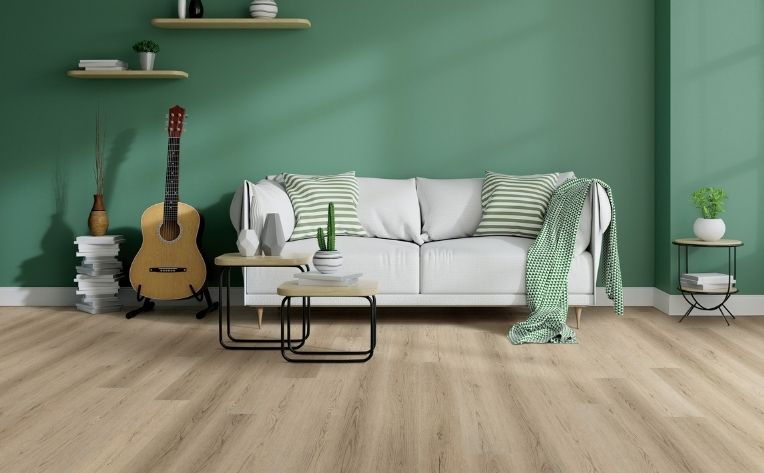 Sep 22, 2021
New floors and new wall color are often the first two considerations when it comes to updating a room. Most of the time, new flooring is a more expensive and time-consuming project, which is why you should choose your floors carefully. On the other hand, wall color is easier to change, but of course, you'll want to allow these two aspects of your room to play off each other. Lucky for you, there are a few easy tips and tricks to pair floors and walls together successfully.
Keep Undertone Top of Mind
When pairing wall colors with floors, it is best to consider the undertone of each element rather than trying to match specific colors. The undertone is the base of the color that affects its overall appearance. A color's undertone can be warm, cool, or neutral. Blue, pink, and green are considered cool colors. A warm palette includes reds, oranges, and yellows. Last, neutral colors are gray, beige, and taupe. When pairing wall colors with floors, you will want to pair colors with either the same undertone or a complementary undertone. Complementary colors are those that are on the opposite end of the color wheel from each other.
How Tone Sets the Mood
In general, different color pairings will create a unique mood. Wall and floors with a neutral tone will make your space feel clean and minimalistic. A neutral undertone can also be paired with warm or cool tones to create the desired look. If you go with a cool color palette, you can expect a bright, airy feel to your space. In contrast, warm tones will give your room a cozier feel.
Samples and Swatches Are Your Saviors
If you're starting from scratch, this probably means you're getting new flooring and painting your walls simultaneously. In this scenario, samples will be your new best friend. You can stop by your local Flooring America store or even order online, and one of our experts will happily send you your top flooring samples to examine firsthand in your home. We can give you tips on different flooring options and their undertones. Seeing different samples side by side will allow you to determine the undertone of the floor more easily. Bringing samples home also lets you see the flooring in your home's natural light, which is important because light will change throughout the day.
Bringing paint swatches home is also extremely helpful when choosing the right color, as you can see the flooring and paint together. You might even consider painting a small section of your wall with different paint options to give you a complete picture of how the color truly looks. Painting a small area of your walls is even more important if you match paint colors with existing floors because if the flooring stays the same, you will want to weigh your paint palette carefully.
Continue Reading