Carpet in Helena, MT
Remove outdated, old carpets and start your dream renovation with new carpets from The Floor Show Flooring America in Helena, MT!
Our carpet options come in a variety of patterns, textures, and colors, and are sure to please. Enjoy exceptional pricing whether you prefer the casual, velvety style of Berber or the diverse pattern of cut-loop. The Floor Show boasts a large showroom where you can explore samples and work with our knowledgeable in-store staff at any time. We provide a full range of services, from free consultations through measurements, estimates, and even professional carpet installation. Visit our showroom in Helena, MT, today to get started!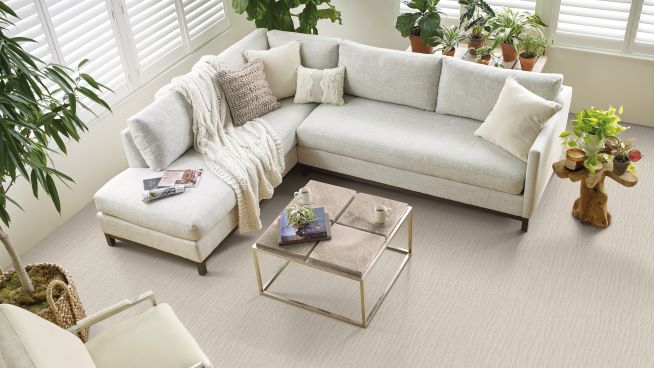 Why Shop Carpets at The Floor Show?
When it comes to home décor and furnishings, your particular tastes are bound to change over time. Is your current floor covering worn, soiled, or simply out of style? Enjoy the warmth and comfort of a new carpet while giving your home a modern facelift. At our local store, we are proud to offer a vast selection of carpet choices to meet the needs of all our clients.
Explore our catalog and you'll find a variety of materials that you can sift through to find the best option for your space, including nylon, polyester, olefin, and triexta. With national 500-store buying power, our Helena location has access to top-quality carpet manufacturers. With the selection from our showroom, you can update your bedroom or create a safe, comfortable play environment for your children.

Carpet Types Explained
The durability and performance of your carpet can be influenced by fiber type, pile height, face weight, gauge, twist level, tuft tie, density, and stitch rate. While choosing a new carpet, we always suggest contacting our experts. At our Helena location, we are pleased to offer the following carpet types:
Frieze Carpet
Frieze carpet is made of a cut-pile construction and is exceptionally plush.
Frieze's long-lasting curling fibers are well-known for their ability to camouflage dirt.
With a knotted appearance, frieze can add a textured style that gives character to any room while blending colors and patterns.
Loop & Loop Cut Carpet
The surface of loop carpet is constructed with uncut loop fibers. A level-loop carpet style comes woven or tufted, with a same-height loop surface.
A multi-loop carpet has two or three different pile heights in each loop. These carpets have a casual style that can prevent foot imprints from appearing.
Cut-loop carpet, on the other hand, is designed exactly as it sounds. The loop fibers have been cut straight with this product, resulting in a snag-free consistency that is popular among individuals who have children, dogs, and cats.
Patterned Carpet
Patterned carpets are made using the same methods as printing paper.
Flatbed screen printing, rotary screen printing, Stalwart printing, and sophisticated computer-programmed jet printing are some of the design processes used.
Contemporary style guides and 5-star hotels are known to flaunt the beautiful patterns that can be achieved with this carpet type.
Saxony & Textured Saxony Carpet
Saxony carpets are cut-pile carpets that can add a touch of luxury to any room in your home.
Saxony-type patterns are resistant to wear, shading, and traffic marks in your home.
Textured Saxony uses the same fiber types, though they've been twisted in different directions to offer a coarser appearance.
Berber Carpet
When describing Berber, the term generally is associated with lighter carpet hues that have been flecked with darker colors.
Berber's natural strength and soil-hiding capabilities make it a go-to floor for active areas in the home.
Often crafted with a loop-style cut, this product is a popular selection among consumers.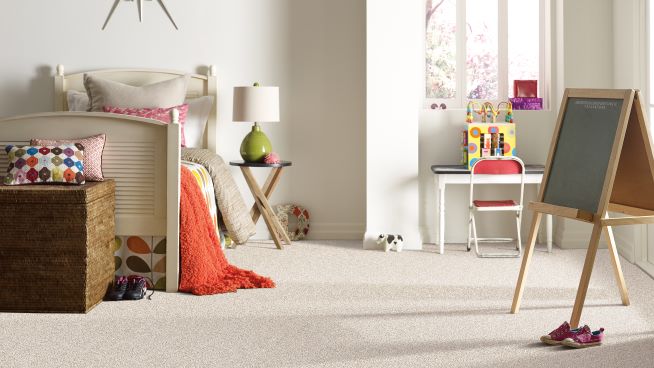 What Are The Benefits of Carpet?
An excellent choice for any home, we can help you discover the many advantages of carpet, including:
Safety: Non-slip features and allergy-resistant surfaces are all available in our carpet types.
Enhances Interiors: For homeowners who live in historical or older homes, a new carpet can conceal uneven subfloors and bring new life to your living room, bedroom, or study.
Elevated Style: Eye-popping colors and patterns can be found in our collection for those who prefer bold choices. Neutral greys and off-whites work well to accent existing furniture styles.
Simple Care: We recognize that messes are unavoidable in any home. One of the many reasons why people love our carpets for their easy-to-clean maintenance. Give your carpet the attention it needs, and your floor will remain vibrant for years!
Durable: Stain and water-resistant carpets offer kid and pet-friendly performance for any room of your home.
Insulation: Carpet boosts insulation for a quieter and more energy-efficient home.
Comfort: Soft yet durable, our collection is built for lasting comfort.

Professional Carpet Installations
Once you've selected your favorite carpet, allow our professional Helena installers to finish the job. Our team consists of well-trained and experienced professionals who are dedicated to completing your home renovation project with precision. We come at a convenient time with the proper tools to swiftly install your new carpets, so you can start enjoying your new floors faster!
To ensure your project's success, all our carpet selections are covered by our Adore Your Floor Guarantee. If you find yourself dissatisfied with our carpet installation or final product, give us a call within 30 days, and we can replace your carpet with a similar model, free of charge.

Contact us today to get started with a custom carpet upgrade! We proudly serve customers in Helena, Montana City, Jefferson City, MT, as well as the surrounding communities.