Hardwood Flooring in Helena, MT
Nothing beats the timeless charm of hardwood flooring, which has the capacity to naturally elevate any room of the house. The Floor Show Flooring America has a large selection of beautiful, natural hardwood flooring options in a variety of shapes, patterns, and finishes. Thanks to our nationwide 500-store buying power, we provide excellent prices on quality hardwood products so you can get your dream floors without breaking the bank.
Our flooring experts will listen to your needs and guide you to the best hardwood flooring option for your performance needs and your personal design taste. Visit our Helena, Montana, showroom today to learn more!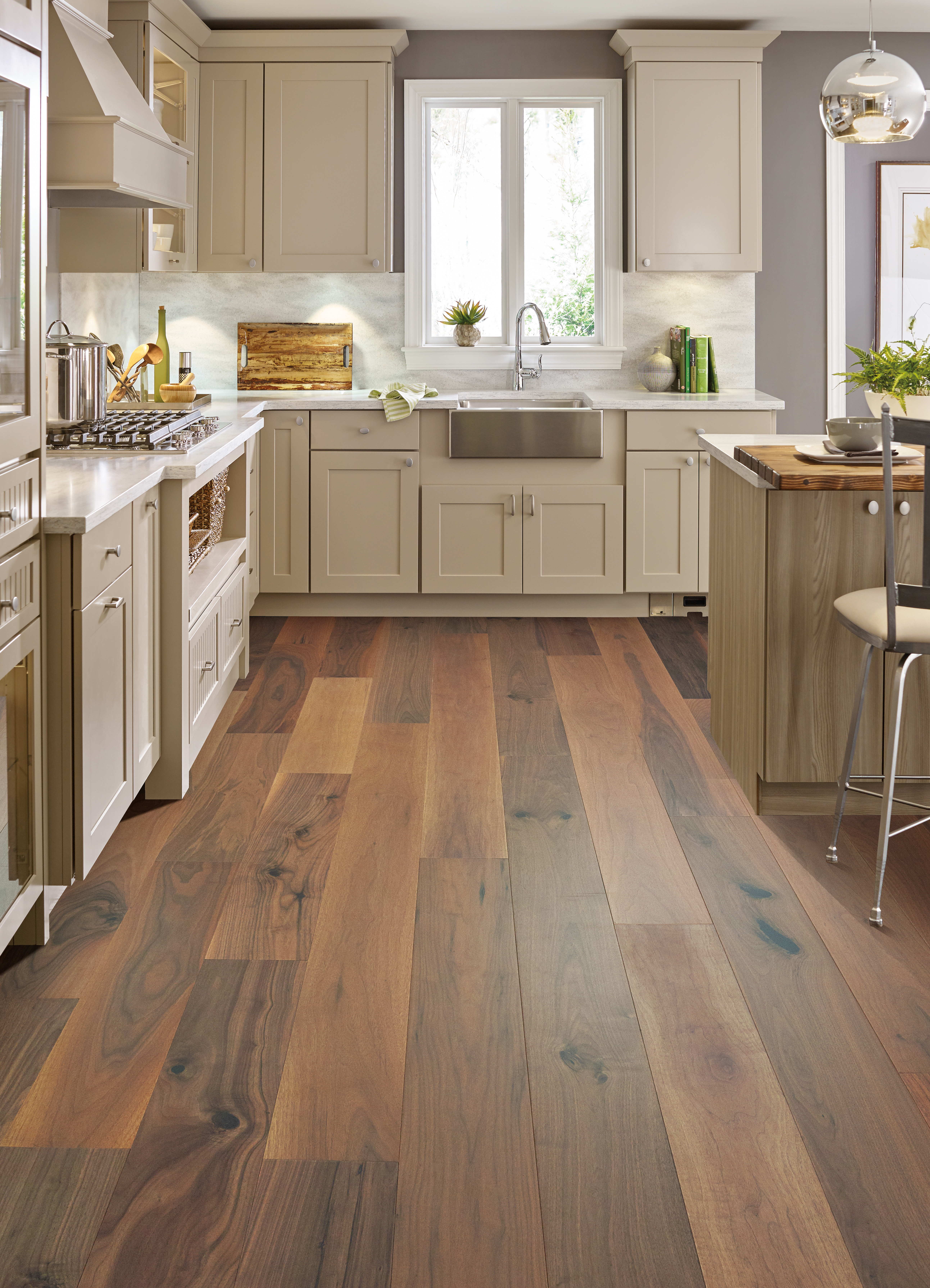 Key Differences Between Solid & Engineered Hardwood
Whether you're looking for lighter shades of white-washed oak or something a little more rustic to compliment the dining area, we have a variety of styles to choose from. Knots, grain patterns, and saw marks on hardwood floors may lend character and texture to your home. Thanks to the newest advancements in floor engineering, hardwood floors are performing better than ever before. You can now choose between solid and engineered hardwood finishes depending on your needs. The following wood species are offered in both our solid and engineered hardwood options:
Mahogany
Ash
Birch
Hickory
Maple
Oak
Pine
Walnut
Solid Wood Floors
Traditional hardwood is commonly found in older homes that have been restored or have kept their genuine wood. There's a reason solid wood floors continue to be a popular flooring material. Solid hardwood is composed of solid wood planks, making it considerably dense while remaining eco-friendly. This type of solid wood flooring can be refinished throughout its lifespan to maintain its luster or switch up the look.
Engineered Wood Floors
Engineered hardwood, on the other hand, is a relatively new innovation that has increased in favor due to its excellent moisture resistance. Engineered hardwood features a thin natural wood species surface that is bonded over a layer of high-quality plywood, resulting in a stronger and more stable floor. This makes engineered hardwood an excellent choice for high-moisture areas such as bathrooms, basements, and kitchens.
Advantages of Hardwood Flooring
It's important our Helena customers understand all the features of hardwood floors when making this investment. We strive to bring you lasting satisfaction, which is why you'll find reliable hardwood brands including Aquadura H2O, Baroque Flooring, Downs, and more at our local flooring store. The benefits of modern hardwood flooring are numerous, including:
Superb craftsmanship of natural boards for gorgeous, eco-friendly designs.
Long-term affordability, while increasing the value of your property.
A practical flooring alternative, thanks to their long-term durability and engineered water-resistant properties.
Our hardwood floors are simple to maintain with a regular cleaning regimen.
Hardwood Maintenance and Care Made Easy
Hardwood floors used to be difficult to keep clean, and the potential of scratches or stains on the finish was a concern. With our high-performing hardwood floor solutions from The Floor Show Flooring America, you can live a simple, low-maintenance lifestyle. To best care for your hardwood flooring, follow these easy tips:
Regularly sweep or vacuum.
Promptly wipe away spills with a damp cloth.
Clean heavier messes with a manufacturer-recommended wood floor cleaning solution.
Always ask a professional before using any harsh chemicals to avoid damaging the finish on your wood flooring.
Occasionally apply a wood polish for some extra shine.
Professional Hardwood Installation Services Available
Trust our pros to complete your flooring installation after you've invested in gorgeous hardwood floors. We strongly encourage you to hire us for installation services, as hardwood floor installation can be a very delicate task. We work with experienced installers from the industry to ensure a smooth and effective laying of your new wood flooring. While we believe that our craftsmanship speaks for itself, we also offer an Ultimate Confidence Guarantee, in the event that you are dissatisfied with your new floor. If this is the case, give us a call within 30 days and we will gladly perform any repairs or replacements, free of charge.
Contact us today and learn more about all our flooring options! We proudly serve customers in Helena, Montana City, Jefferson City, MT, and the surrounding communities.