Vinyl Flooring Showcases Resilience and Style
Vinyl Flooring in Helena, MT
When you invest in a new vinyl floor from The Floor Show Flooring America from scenic Helena, Montana, you will never have to choose between quality and elegance. Beautiful samples of luxury vinyl tile, luxury vinyl planks, and standard sheet vinyl can be found in our showroom. Give your home a new look with vinyl that accurately replicates the feel and appearance of marble, ceramic, porcelain, stone, and hardwood. Visit our showroom to speak with one of our in-store associates about product selection, ordering, and scheduling in-home measurements and expert installation.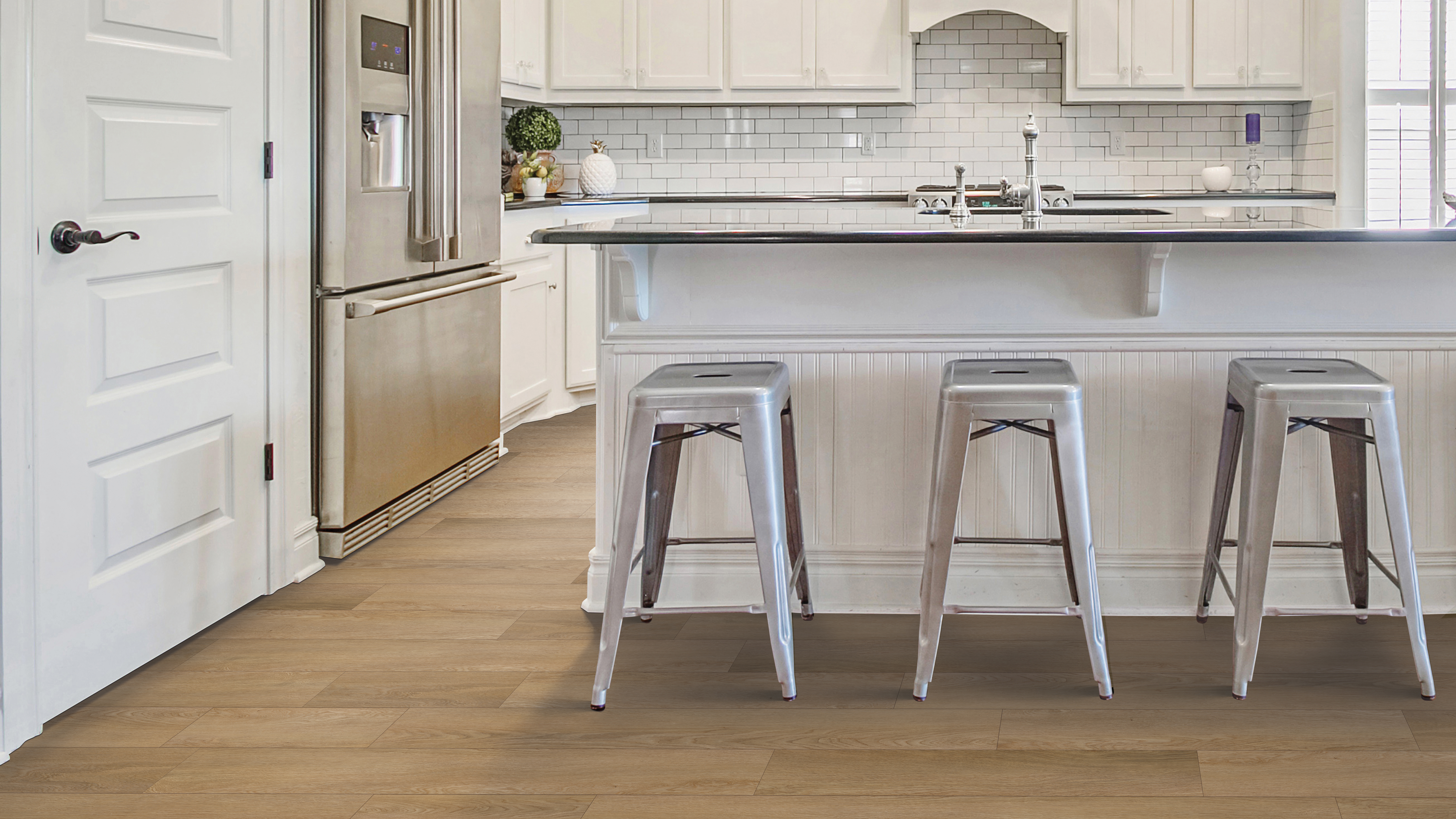 Why Choose Luxury Vinyl Flooring?
Traditional and luxury vinyl flooring will provide your home with a surface that is resistant to scratches, stains, chips, tear, and fading. Your new vinyl floor will even muffle heavy amounts of foot traffic with its comfortable but firm outer layer! Best yet, all of our luxury vinyl products are waterproof, making them a safe and stylish complement to bathrooms, kitchens, washrooms, and other moisture-prone areas. Start by looking browsing our online catalog for some of the following stylish brands:
Core Elements
Galvanite
Genua
Spotlight Values
Downs H2O
Baroque Flooring
Armstrong
Karndean Design Flooring
Mannington
Mohawk
Shaw
Luxury vinyl flooring will help you save money while increasing the value of your property. This flooring option comes in a wide range of textures, colors, and designs, allowing you to create a unique and dynamic look for your home that is entirely your style. It's also exceptionally tough, withstanding years of exposure to regular household activities that other flooring types may not fare well with. Our most affordable alternative is traditional sheet vinyl, which provides a smooth floor covering with no gaps or seams. This option has a uniform design and can be put placed over any existing floor model with adhesive. The Floor Show Flooring America also offers LVT and LVP options with unique features, such as:
Luxury Vinyl Tile
Create your own designs from our collection of luxury vinyl tiles. Unlike sheet flooring, LVT is cut into square tiles, allowing you to choose a layout in any design or pattern you want. Available in a variety of printed colors and hues, these floors enable you to have the stone or tile appearance you desire without the high cost, grouting or special cleaners that are needed with ceramics. This elegant option is a perfect choice for active families or pet owners alike.
Luxury Vinyl Plank
Love the look of hardwood flooring but not the price? Vinyl plank flooring is an affordable alternative with additional benefits. Never fear warping or expensive polishes as this wood alternative is a low-maintenance solution with an authentic touch. LVP is a great choice when you want the refined appearance of hardwood but are worried about damage from scratching, dents, and moisture. Cut into thick planks, this flooring option will deceive even the most observant of guests.
A Cleaning Regiment for Vinyl Flooring
Vinyl flooring is built to last for many years when treated well. Even the busiest households with pets, children, and heavy daily use can keep their vinyl flooring clean with a little effort. The application of soap, water, and a mop will easily remove spills or messes. Sweep or vacuum the surface of your new floor regularly to remove dust or sand from those memorable days in the mountains. While some customers' allergies may be aggravated by other flooring options, such as carpet, our luxury vinyl decreases the accumulation of pollen and dander, giving seasonal relief to many. Before purchasing any chemical-based cleaners, be sure to check your warranty or consult a member of our team as some harsh products can damage the wear layer of a vinyl floor. Before purchasing any chemical-based cleaners, be sure to check your warranty or consult a member of our team as some harsh products can damage the wear layer of a vinyl floor.
Expert Installations with the Flooring America Team
You can secure your investment for a lifetime with our skilled and experienced specialists. The quality of your vinyl flooring installation is just as important as the quality of the vinyl flooring you buy. Allow our expert vinyl flooring installers to handle this final step towards beautifying your home. Schedule a time that works best for you after you've made your final purchase, and we'll arrive with cutting-edge machinery and tools. Our store provides an Ultimate Confidence Guarantee in addition to some of the greatest warranties in the business. If you are unhappy with your choice after it has been installed, give us a call within 30 days and we will replace your floors for free with a similar product.
Contact us today and learn more about all our flooring options! We proudly serve customers in Helena, Montana City, Jefferson City, MT