Luxury Vinyl Flooring in Helena, MT
When you invest in a new luxury vinyl floor from The Floor Show Flooring America in scenic Helena, Montana, you will never have to choose between quality and elegance. Beautiful samples of luxury vinyl tile, luxury vinyl planks, and standard sheet vinyl can be found in our local showroom. Give your residence, commercial property, or apartment complex a new look with vinyl that accurately replicates the feel and appearance of, ceramic, porcelain, stone, and hardwood. Visit our Helena, Montana, showroom to speak with one of our in-store associates about product selection, ordering, scheduling in-home measurements, and our expert installation!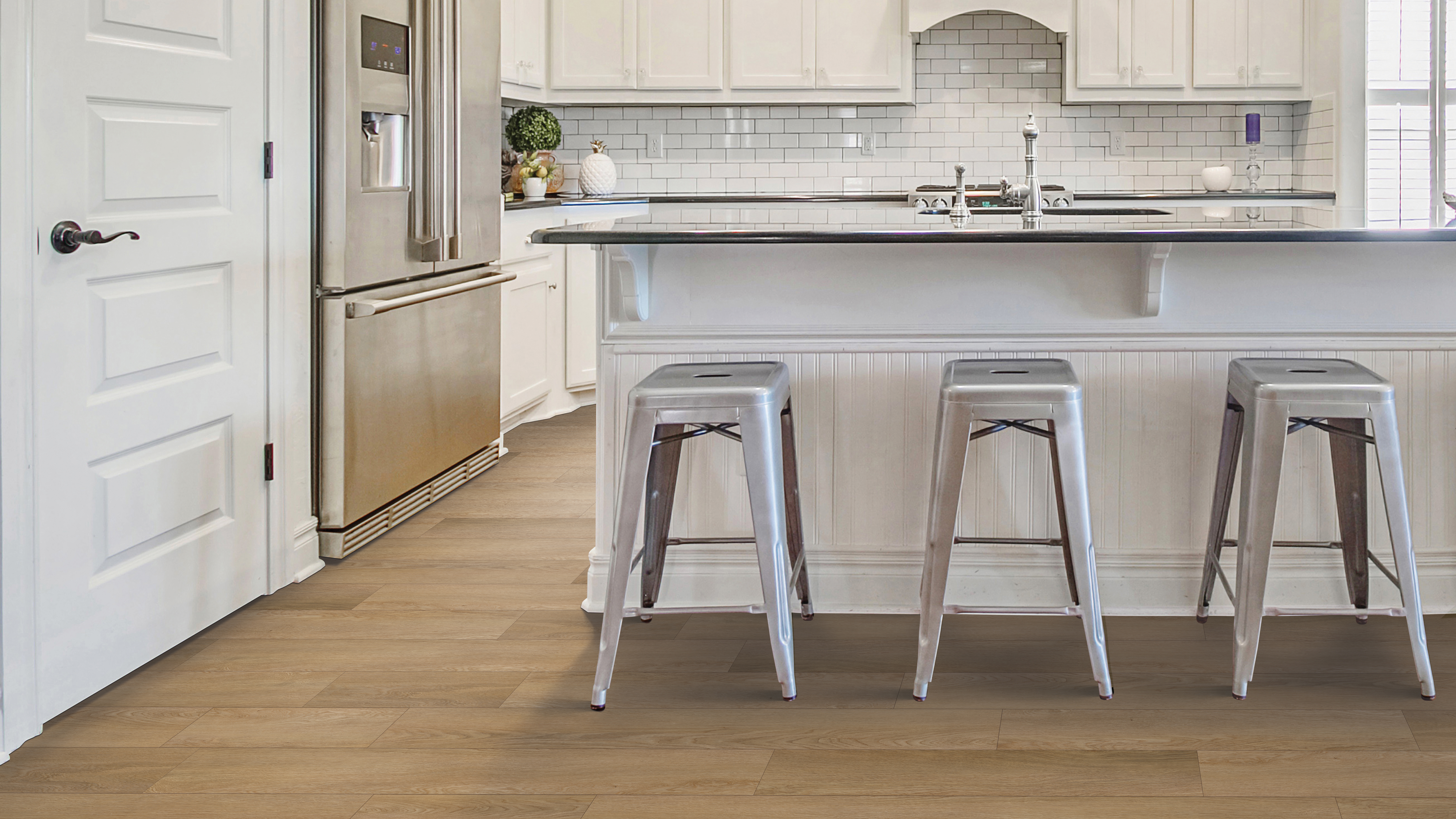 Why Choose Luxury Vinyl Flooring?
Luxury vinyl flooring boasts a variety of unique benefits due to its layered composition. Crafted with a waterproof backing layer, stable composite core, realistic photo layer, and a protective wear layer, LVT or LVP maximize both durability and style to meet our Montana customers' needs.
At The Floor Show, we utilize the buying power of Flooring America to purchase industry-leading luxury vinyl brands like Tough Core, Momentum, and Cagoleum to pass the savings directly to you. This way, you enjoy stylish looks at the prices you deserve. Our Helena customers love luxury vinyl floors for all its advantages, including:
Ideal for even the busiest households with pets, children, and heavy daily use.
LVT and LVP are resistant to scratches, stains, chips, tears, and fading.
Your new vinyl floor will even muffle foot traffic and absorb sound with its resilient layers.
All of our luxury vinyl products are waterproof, making them a safe and stylish complement to bathrooms, kitchens, washrooms, and other moisture-prone areas.
Vinyl flooring is built to last for many years with an easy care routine.
Luxury vinyl floors decrease the accumulation of pollen and dander, giving seasonal relief to many.
Choose from a variety of gorgeous luxury vinyl designs to enhance your interior.
Find a flooring choice that meets your budget with our affordable LVT or LVP options.
Types of Luxury Vinyl Floors Available
Luxury vinyl flooring will help you save money while increasing the value of your property. This flooring option comes in a wide range of realistic and natural-looking textures, colors, and patterns, allowing you to create a unique and dynamic look for your home that is entirely your style. It's also exceptionally tough, withstanding years of use. The Floor Show Flooring America offers the following types of luxury vinyl flooring:
Luxury Vinyl Tile
Create your own designs from our collection of luxury vinyl tiles. Unlike sheet flooring, LVT is cut into square tiles, allowing you to choose a layout in any design or pattern you want. Available in a variety of printed colors and hues, these floors enable you to have the stone or tile appearance you desire without the high cost, grouting, or special cleaners that are needed with ceramics. This elegant option is a perfect choice for active families or pet owners alike.
Luxury Vinyl Plank
Love the look of hardwood flooring but not the hefty price tag? Luxury vinyl plank flooring is an affordable alternative with additional benefits. Never fear warping or expensive polishes as this wood alternative is a low-maintenance solution with an authentic touch. LVP is a great choice when you want the refined appearance of hardwood but are worried about damage from scratching, dents, and moisture. Cut into thick planks, this flooring option will deceive even the most observant of guests. Get the look of classic white or red oak, rustic farmhouse ash, or a variety of lovely wood designs that suit your personal tastes!
Sheet Vinyl Flooring
Our most affordable alternative is traditional sheet vinyl, which provides a smooth floor covering with no gaps or seams. Sheet vinyl is a durable product cut from one continuous sheet of vinyl flooring. This option has a uniform design and can be put placed over any existing floor model with adhesive.
This type of luxury vinyl flooring is exceptionally waterproof, perfect for commercial spaces, kitchens, basements, laundry rooms, and anywhere moisture is a concern. With our sheet vinyl, you don't have to sacrifice style for quality. Choose from an array of beautiful wood and stone looks to match your desired interior design.
Expert Installations with Our Helena Contractors
You can secure your luxury vinyl flooring investment for a lifetime with our skilled and experienced Helena installers. The quality of your vinyl flooring installation is just as important as the quality of the vinyl flooring you buy. Allow our expert vinyl flooring installers to handle this final step toward beautifying your home. Schedule a time that works best for you after you've made your final purchase, and we'll arrive with cutting-edge machinery and tools.
Our local flooring store backs each of our luxury vinyl installations with our Adore Your Floor Guarantee in addition to some of the greatest warranties in the business. If you are unhappy with your choice after it has been installed, give us a call within 30 days and we will replace your floors for free with a similar product.
Contact us today and learn more about our luxury vinyl flooring products and installation services! We proudly serve customers in Helena, Montana City, and Jefferson City, MT!